Spice up your portfolio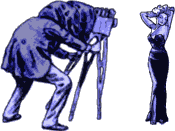 Although Galleri.nu no longer publishes model pictures, of course you as a model is still welcome for a photo session. There are way too many tacky pictures out here on the web. Galleri.nu makes sure you get the best possible technical conditions.
Galleri.nu has experienced model photographing, retouching and creative picture processing since several years. The equipment is newly upgraded and among the best. In case you suffer from lack of ideas or just need a speaking partner, we deal with that too.
Tell a little bit about yourself, what you want to express and possible projects. Feel more than free to submit a few pictures of yourself. Kindly note that Galleri.nu addresses models of full age.
You may either send an e-mail to redax@galleri.nu or utilize the form below. Naturally an e-mail address or a phone number is a necessity in order for Galleri.nu to respond.